Looking for a long distance move from Orange or Riverside Counties to San Francisco?
Laaks Moving Services for intrastate moves within California – Moving from Irvine to San Francisco.
Got a new job opportunity in San Francisco or looking to relocate to a new city to try your luck? Our trucks are ready to move you to your new home in San Francisco from Irvine or anywhere in Orange County, or Riverside County.
Laaks Moving Services is a team of experienced movers, so we can get your stuff to San Francisco quickly, safely and efficiently. Our Long distance movers process is simple and we offer a comprehensive range of moving services. Our rates include all the basic used in packing and moving the stuff like:
Uniformed Staff
Quality Packing Materials and Tools
Shrink Wrap, Wardrobe Boxes, Moving Blankets
Insurance
What to know when moving to San Francisco (or 'SF' as they call it)?
Northern California has seen a spike in people relocating from the Orange County area over the past decade. Much of this spike involved people changing jobs to the high-tech and finance-rich San Francisco area from Irvine and surrounding cities. Since these moves involve long distances they frequently hire moving companies to handle all the heavy lifting.
Moving companies vary greatly from simply local movers that can handle everything in a single day. To full-service movers that can handle short and long-haul moves across town or the state. The key is to find the right fit for you before you make the leap and hire one for your next move.
One of the best movers in Southern California is Laaks Moving Services, Inc. They have been helping homeowners and business owners relocate for more than 10 years. They have a highly trained staff that includes logistical experts, professional packers, and truck drivers. This allows them to offer complete door-to-door services for local and long-haul moves.
Keys to Moving to San Francisco
Any time there is a need to pack up all of your belongings and relocate there is a degree of stress and apprehension. It would likely be magnified if you were taking a new position in a faraway place like San Francisco. One way to reduce the stress is by hiring a local moving company that is also capable of handling a long-haul move.
A move from Orange County to San Francisco in Northern California from Southern California presents a unique set of challenges. Having a professional moving company on your side will increase the odds that you will have a successful move.
When you hire a moving services company you can let them handle all of the labor, hauling, and logistical support. This frees you up to worry about the smaller things that are necessary like being sure that you arrive at your new job on time. All you will need to do is let the packers enter your current home at the start of the move and then let them into the door at your new home.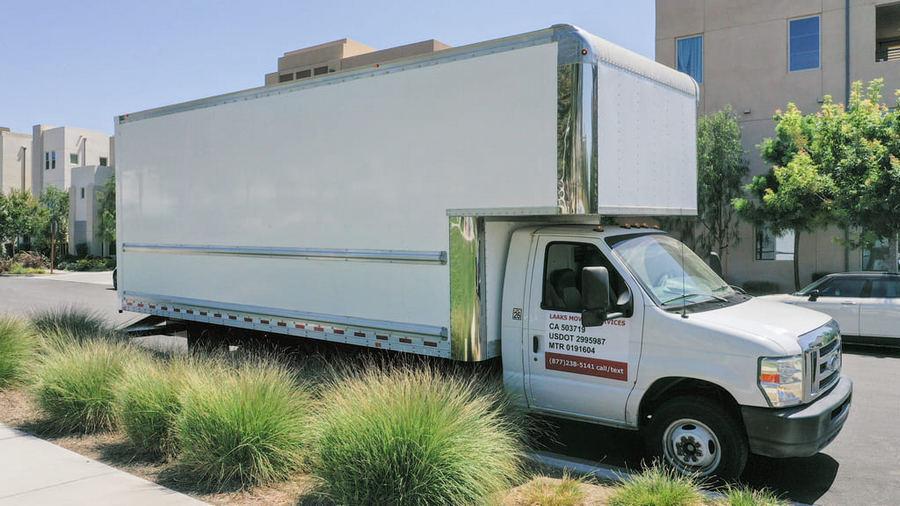 Moving Services
Laaks Moving Services, Inc has developed a very strong reputation for its ability to handle most jobs, large or small, local or statewide. We have the expertise needed to handle in-state moves of kinds. This includes if you need to relocate from Orange County to San Francisco for work.
Laaks also has the expertise to handle moves that involve just a short drive across town. As local movers, we are quite familiar with the area and can use it to their advantage and to benefit you. Our moving packages are set up in a way that you can choose between being charged just to haul everything to your new home after you packed it yourself, or you can purchase a complete door-to-door service.
What comes with the complete moving service?
As the name implies, if you choose one of Laaks complete moving packages it includes everything necessary to safely get your belongings from your current home to your new home. Since we provide a team of packers to box up everything in your home and load it onto the truck(s). Then our team of drivers hauls your belongings to the new location. When the truck(s) arrive at the destination the packing team unloads the truck(s) and puts everything where you want them in your new home.
Equipment and Supplies
Furniture carts/dollies
Furniture blankets and tie-downs
Packing Boxes (including oversized, wardrobe boxes)
Packing tape and dispensers
Bubble wrap and tissue paper
What have customers been saying about Laaks Moving Services?
Laaks Moving Services is one of the top-rated long-distance movers San Francisco in the state of California. Our company has received nothing but glowing reviews according to everything we have seen online. One of the best ways we have found to convey to you what you can expect if you were to hire Laaks Movers to move your family to San Francisco is to include some of the actual testimonials from past customers. Below are just a small sampling of the testimonials we found online.