While residential property owners can relatively easily take care of moving everything from one house to another, it is not as easy for a business owner. This is because depending on the type and size of the business, it can be a bit of a challenge.
Fortunately, there are commercial moving companies that specialize in corporate moving. One of the most popular and well-respected business relocation in Riverside and Orange, California is called Laaks Moving Services company.
Laaks Moving Services – commercial moving company
We are a full-service moving company that supports all residential and commercial customers in Southern California. We are considered moving experts and cover a wide area that includes both Orange and Riverside counties. Many of our moving packages start in Irvine (in Orange County) and Palm Springs (in Riverside County).
Each team is staffed by highly trained professional packers and loaders who go into your business location and packs up everything into boxes. They load up the furniture and other large equipment into trucks. All of the oversized stuff is wrapped and packed carefully inside heavy-duty shipping blankets.
All commercial moves include the necessary packing materials and supplies, such as boxes, tape, and bubble wrap. We also supply moving equipment needed to move furniture and large pieces of equipment. Everything is loaded up into the appropriate size and type of truck, depending on whether it is a local move or a state-to-state move.
Office movers in Orange and Riverside Counties, CA
For more than ten years, Laaks Moving Services has been offering its office relocation services to businesses large and small in the communities of Orange and Riverside County. No job is considered too large or too small for the commercial mover professionals at Laaks Moving Services.
We are a full-service moving company that offers both residential and commercial moving services. Our team handles all aspects of the move from start to finish and everything in between. This includes all packing supplies, materials, and moving equipment needed.
The packing team goes in and carefully packs up all of your office equipment, furniture, technique and then loads it all into several trucks. We then drive the trucks to your new location whether it is local or long-distance. Our company offers two different types of commercial moving services to all of its business customers in southern California; local moving and state-to-state moving.
Commercial movers in California
Local Moving Services – The professionals at Laaks offer its commercial moving services to all businesses in California. All local moves include a full range of services and also feature same-day completion.
State to State Moving – Laaks moving expertise is not just for local moves, we also have specially priced moving packages that include long-distance hauling for commercial office relocations. Our movers have established routes that include moves from Irvine, California to locations in surrounding states. This includes Las Vegas, Nevada, and Pheonix, Arizona. However, for those looking for a custom move, Laaks is also able to commercial businesses large and small across the country.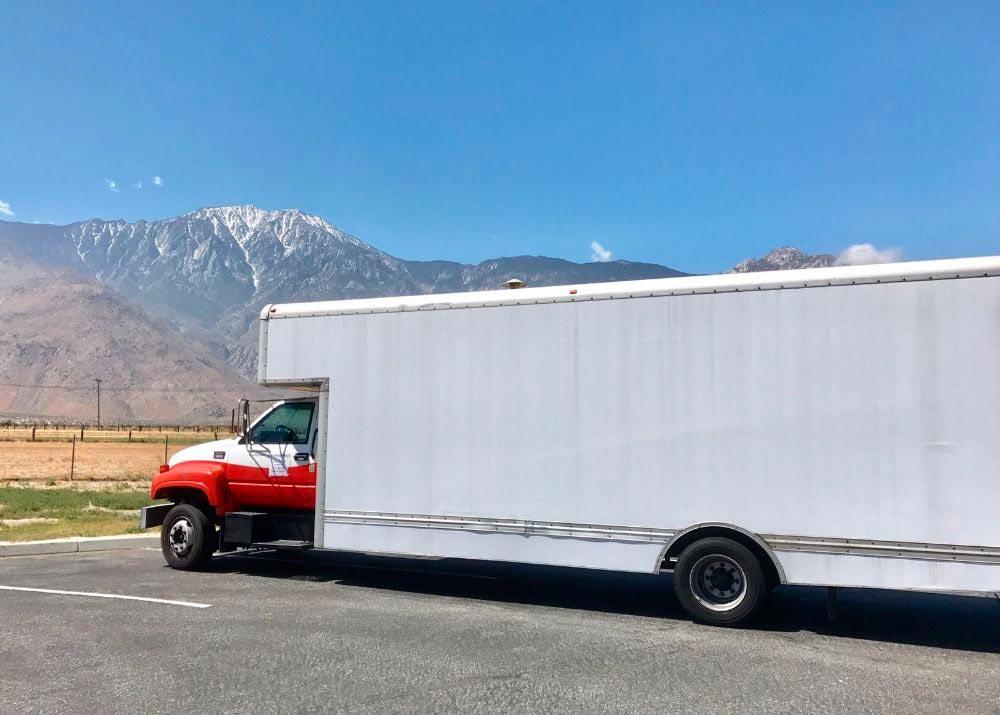 What are people saying about us?
For more than ten years our company has been looked at as the best local movers in the Orange County and Riverside County cities such as Irvine and Palm Springs. We have been offering our moving expertise to both residential and commercial businesses.
We have included a lot of valuable information in this article up until now about Laaks Moving Services – Commercial Moving. However, we decided that to give just a little more, we figured that you might want to hear from people who have used their services. So, below you will find actual testimonials written by past customers.
We send a pack-up team to your current address and pack all your things and load them in one or more of their company trucks. All of the packing supplies and packing blankets and included in the price quote. Once your belongings are packed up and loaded up on the truck, they will meet you at the address of your new residence. Our movers will then unload everything and place them where you want them and begin unpacking all of the boxes.